*** Giveaway closed. Congratulations to Becky L., the winner! ***
It's getting colder here in the Northern Hemisphere, so in keeping with the season I'm giving away winter cozy mysteries written by two of my author friends,
Sherry Harris
and
Auralee Wallace
. Sherry's
All Murders Final!
is a delightful mystery starring a garage sale expert, and Auralee's
Ring in the Year with Murder
is perfect for readers who enjoy mysteries with a chick-lit feel. United States residents are welcome to enter to win one or both titles and will receive my gently used, signed book(s) if they win. Non-US readers can choose one of these books and, if they win, they will either receive a new paperback of their chosen book or, if the
Book Depository
does not ship to their country, an alternate prize of my choosing.
Please see my website for the full rules.
I also want to try a new feature on my blog (and with my readers' group emails;
click here if you'd like to join
). Animal rescue is a cause near and dear to my heart, so I'd like to try spotlighting a rescue organization or an adoptable animal every so often. I know my readers are scattered all over the world, but you never know who this will reach and I believe any exposure helps. Plus, it serves as a reminder to those looking for their own pets that there are alternatives to breeders. Wherever you are, I'm sure there are many wonderful rescue animals looking for homes in your area. If you're in North America, you can find many of them on
Petfinder
. And if you're involved with animal rescue and would like to see your organization or one of your animals featured at some point, please email me at
marlabradeen@gmail.com
.
Without further ado, here is this month's featured adoptable animal!
Luke the Cat, November's Adoptable Animal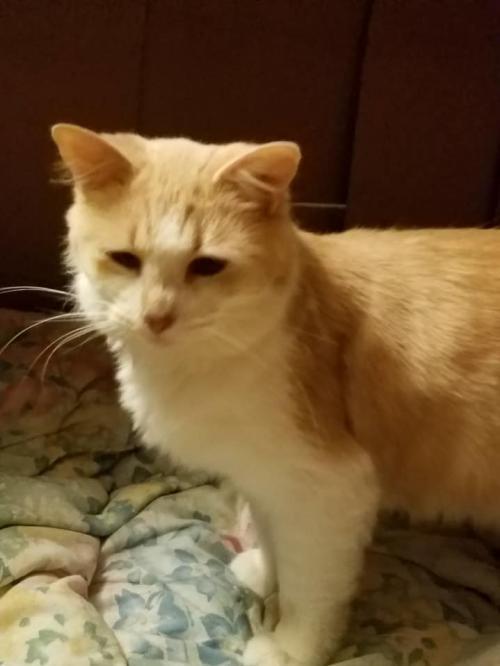 Luke is a 7-month-old Domestic Shorthair rescued in October by
Rescue Dogs Rock NYC
. Found with an embedded collar growing into his neck, he is now recovering at a vet clinic in New York City, up to date on his shots, and in search of his forever home. Luke loves to take little naps, and when you first wake him up he looks all sleepy eyed and it just melts your heart. He has long silky fur that he loves to groom; he is as soft as a pillow! He is great with people and would do well in a home with children. To learn more about this sweet kitty, visit
Luke's Petfinder profile
or, for details about his backstory, join
Luke's Facebook group
.
Those interested in adopting Luke can submit an application to
Rescue Dogs Rock NYC
or email
info@rescuedogsrocknyc.org
for more information. Luke is currently located in New York City, with transport possible to eleven surrounding states.
If you're entering the book giveaway, there is a daily option to share information about Luke in order to earn more entries. If you're not entering the book giveaway, below are some links to pages/posts you can share/retweet if you'd still like to get Luke some additional exposure. Let's help spread the word and find this sweet kitty a home!
Luke on Petfinder
Facebook
Twitter
Read on to learn more about the books I'm giving away, then enter using the Rafflecopter at the end of this post. Good luck!
All Murders Final! by Sherry Harris
When Sarah Winston started the virtual garage sale, it seemed like a keystroke of genius and the next logical step in her business. No more collapsing card tables and rainy-day washouts. But what began as a fun way to run garage sales during the long New England winter has become a nightmare of managing people and putting out fires. Online, she can avoid the crowds--but not the crazies.
She certainly never bargained on dealing with frightening threats. And when a client is murdered, it's time for Sarah to swallow her pride and seek the help of her ex--C.J. Hooker, chief of police. Forging a tense alliance, they search--online and off--for the killer. But solving this crime before someone else gets tagged seems virtually impossible . . .
Find the book:
Amazon*
|
Apple iBooks*
|
Barnes & Noble
|
Kobo*
Connect with Sherry:
Website
|
Facebook
|
Twitter
|
Goodreads
Ring in the Year with Murder by Auralee Wallace
It's been a tough year for Erica Bloom. And with hours left on the clock and a killer crashing the party, it's not over yet…

This New Year's Eve, Erica's resolution is to have a great night—even if it kills her. She is, after all, at the party to end all parties: a Great Gatsby--themed gala sure to be the talk of Otter Lake, New Hampshire. With her perfectly finger-waved hair, borrowed pearls, and scarlet flapper dress, Erica is determined to be unflappable, despite the presence of her ex, Sheriff Grady Forrester, and his hot date, a bubbly blonde who has a hard time holding her drink. Literally. . .

In a plot twist as bizarre as a game of Clue, Grady's girlfriend almost drops dead after her drink is poisoned. Who put the killer ingredient in her appletini? Suddenly the tables have turned and the sheriff has become the prime suspect. Now Erica has until midnight to clear the man she still loves—and in so doing just maybe win him back. That's if the killer doesn't pop the cork again… and turn a New Year's smooch into a kiss of death…
Find the book:
Amazon*
|
Apple iBooks*
|
Barnes & Noble
|
Kobo*
Connect with Auralee:
Website
|
Facebook
|
Twitter
|
Goodreads
Adoptable Animal write-up modified from information provided by Rescue Dogs Rock NYC and Lane Rescues (thank you!). Photo taken from Petfinder.com.
Book covers and blurbs taken from Amazon.com.
(* Please note, I am a participant in the Amazon Services LLC Associates Program, the Apple iTunes (iBooks) Affiliate Program, and the Kobo Rakuten Marketing affiliate program, which means I may earn a referral commission when you buy something through one of the links above. This does not affect the price you pay, but if you would prefer to bypass my affiliate links please access your desired retailer website directly instead of using the links found here. Thank you!)
a Rafflecopter giveaway