*** Giveaway closed. Congratulations to Dianne C., the winner! ***
Happy 2019, everyone! It's hard for me to believe it's February already. Where did January go?
Time for another book giveaway! This week I'm featuring suspense novels by
Cynthia Harrison
and
Hallie Ephron
. Cynthia is the very first author friend I made online when I began this publishing journey back in 2013. She has historically been a romance author, but I'm thrilled she's finding her way into mysteries.
Lily White in Detroit
is her debut suspense novel, and it's wonderful. I discovered Hallie through the
Jungle Red Writers
, a fabulously entertaining blog run by several women mystery authors. If you're not familiar with the Jungle Red Writers, you need to fix that right away! Hallie's
You'll Never Know, Dear
is an entertaining standalone novel and not nearly as creepy as the cover suggests. I promise. United States residents are welcome to enter to win one or both titles and will receive my gently used book(s) if they win. Non-US readers can choose one of these books and, if they win, they will either receive a new paperback of their chosen title or, if the
Book Depository
does not ship to their country, an alternate prize of my choosing.
Please see my website for the full rules.
It's also time to spotlight another adoptable animal! Meet the beautiful Lulu Belle.
Lulu Belle the Cat, February's Adoptable Animal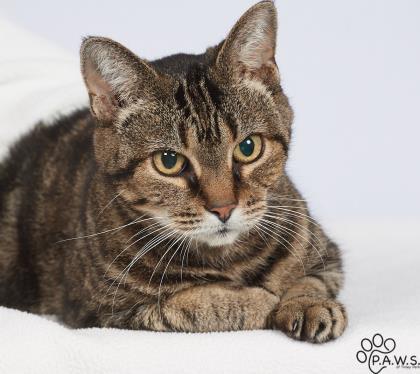 Lulu Belle is a nine-year-old domestic shorthair available through
P.A.W.S. of Tinley Park
, a no-kill shelter in Tinley Park, Illinois. Please visit
Lulu Belle's Petango profile
for details on how to contact the shelter.
If you're entering the book giveaway, there is a daily option to share information about Lulu Belle in order to earn more entries. If you're not entering the book giveaway, below are some links to pages/posts you can share/retweet if you'd still like to give this cute kitty some additional exposure.
Lulu Belle on Petango
Facebook
Twitter
Read on to learn more about the books I'm giving away, then enter using the Rafflecopter at the end of this post. Good luck!
Lily White in Detroit by Cynthia Harrison
Private investigator Lily White has a client with a faulty moral compass. When the client is arrested for murdering his wife and her alleged lover, Lily follows her intuition and her own leads. If she's wrong, she'll at least know she did her job.
Detroit police detective Derrick Paxton remembers Lily from another case. He understands she suffers from PTSD and thinks her judgment is impaired. He goes after her client and the evidence he needs to close the case. When Lily is kidnapped, the case takes an unexpected turn.
In a sometimes racially divided city, a black cop and a white PI work together to peel back every layer to find the truth. What they find leads them to each other, but do they have enough to bring the true criminals to justice?
Find the book:
Amazon*
|
Apple Books*
|
Barnes & Noble
|
Kobo*
Connect with Cynthia:
Website
|
Facebook
|
Twitter
|
Goodreads
You'll Never Know, Dear by Hallie Ephron
Seven-year-old Lissie Woodham and her four-year-old sister Janey were playing with their porcelain dolls in the front yard when an adorable puppy scampered by. Eager to pet the pretty dog, Lissie chased after the pup as it ran down the street. When she returned to the yard, Janey's precious doll was gone . . . and so was Janey.

Forty years after Janey went missing, Lis—now a mother with a college-age daughter of her own—still blames herself for what happened. Every year on the anniversary of her sister's disappearance, their mother, Miss Sorrel, places a classified ad in the local paper with a picture of the toy Janey had with her that day—a one-of-a-kind porcelain doll—offering a generous cash reward for its return. For years, there's been no response. But this year, the doll came home.

It is the first clue in a decades-old mystery that is about to turn into something far more sinister—endangering Lis and the lives of her mother and daughter as well. Someone knows the truth about what happened all those years ago, and is desperate to keep it hidden.
Find the book:
Amazon*
|
Apple Books*
|
Barnes & Noble
|
Kobo*
Connect with Hallie:
Website
|
Facebook
|
Twitter
|
Goodreads
Adoptable Animal write-up modified from information posted by P.A.W.S. of Tinley Park. Photo taken from Petango.com.
Book covers and blurbs taken from Amazon.com.
(* Please note, I am a participant in the Amazon Services LLC Associates Program, the Apple iTunes (Apple Books) Affiliate Program, and the Kobo Rakuten Marketing affiliate program, which means I may earn a referral commission when you buy something through one of the links above. This does not affect the price you pay, but if you would prefer to bypass my affiliate links please access your desired retailer website directly instead of using the links found here. Thank you!)
a Rafflecopter giveaway